Busy at work, frequent travel or concern about personal privacy? SnapMail provides a private mailing address and will receive all mails & parcels on your behalf, hassle-free!
Accept parcels from local or overseas couriers.
Exclusive personal 'cloud-based' web account.
Optional 'open-mail' scan to digitize mails.
Collect from 24 hrs SnapBOX at your convenience.
Re-forward to local or overseas address if required.
Parcel on-hold in mailroom when overseas.
Trash-mail option to shred unwanted mails.
Re-packing, cheque deposit, etc.
Large personal parcel-box available for rent.
Foreigners are welcome to apply.
Account-types:
b1: Personal 'physical' mailbox(1) with no mail/parcel(3) fees.
s2: For mostly parcels without need for a personal mailbox.
s3: Lower subscription with incoming parcel(3) fees.
s4: Pay-per-use. $3 per mth with higher mail/parcel(3) fees.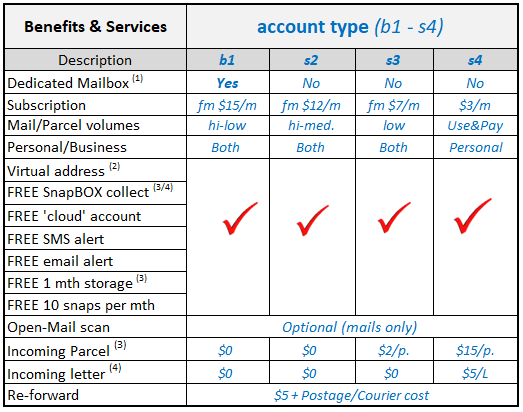 (1) Standard personal mailbox is approximately 12x15x40cm.
(2) Virtual address cannot be used for SG-NRIC address.
(3) Parcel subject to weight and maximum dimension 30x40x80cm.
(4) $1/bundle to collect 'letters' from SnapBOX for s3 & s4 accounts.