Busy at work, frequent travel or concern about personal privacy? SNAPMAIL provides a private, physical mailing address to receive mail & parcels on your behalf. [PROMO: 50% Discount/rebates for new s3 SG-business account with free ACRA 'alternate address'].
Accepts mail items from local or overseas couriers.
User friendly personalised 'cloud-based' virtual mailbox platofrm.
Optional 'open-mail' scan to digitize mail.
Free mail/parcel self-collect from 7 SnapBOX island-wide.
Re-forward to local or overseas address if required.
Mail items hold in mailroom storage when travelling.
Trash-mail option to dispose unwanted mail.
Re-pack, re-ship, cheque deposit, etc.
XXL personal parcel-box available for rent.
Foreigners or offshore companies are welcome to apply.
Account-types:
b1: Premium account with a 'physical' letterbox[1].
s2: Virtual mailbox to receive mail & parcels.
s3: Virtual mailbox to receive letters. Parcel is payable.
s4: Virtual mailbox for occasional users. Incoming mail items are payable.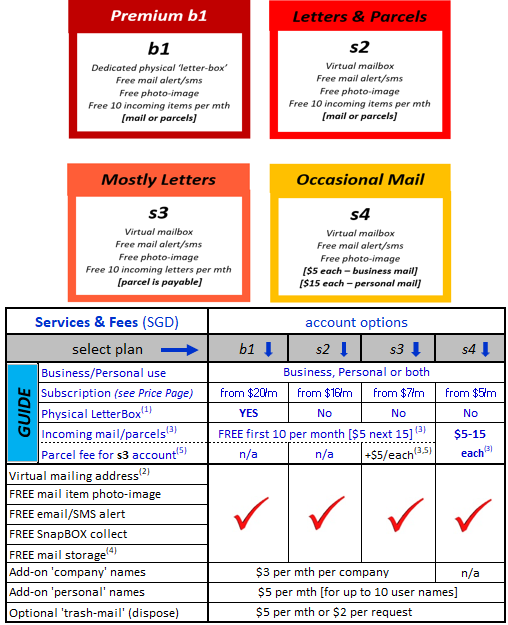 (1) Standard 'physical' letter-box, approximately 12 x 15 x 40cm.
(2) Virtual address can receive parcels, bank statements, bills, government letters, etc.
(3) Additional fee applies to parcel exceeding 90cm (total L+B+H) and/or over 5kg.
(4) Letters: 3 months (unlimted for b1 account). Standard parcel: 1 month.
(5) Any parcel. Document above 300gm is classified as 'parcel'. Applies to s3 account only.