CBD Virtual Office address
Virtual address for ACRA registration.
Optional 'open-mail' scan to digitized mails
Add-on company name at only $3 per month!
Click Here to Sign Up Now!

Your mails & parcels are in good hands while you are busy at work, on business travel or based overseas.
Ideal for new start-ups and entrepreneurs.
Virtual business address from only $7 per mth.
Free mail/parcel self-collect at island-wide SnapBOX.
Various price-plans and service options.
Exclusive 'cloud-based' account for digitized mails.
Re-forward to local or overseas address if required.
Business reply-mail or parcel-return address.
Basic office support services
Add-on personal user names, trash-mail, etc.
Switch from other Virtual Office & receive rebates/discounts
Foreign-based companies are welcome to apply.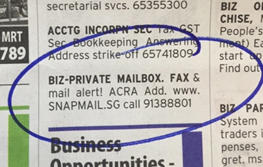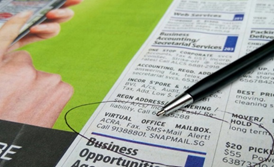 Use of office address for ACRA Registration & SAVE on expensive office rental
Immediate re-forward if required
We'll sign & accept your package or parcel.
Add users or business names.